In Memory
Henry Adams (Industrial Arts Teacher)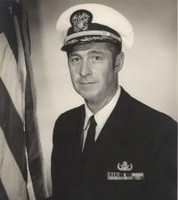 Henry Adams Obituary - San Francisco, CA | San Francisco Chronicle
Captain Henry R. Adams, U.S.N.R. (RET)
July 9, 1924-February 7, 2015
Henry Robinson Adams, 90, passed away peacefully on February 7, 2015, surrounded by his family. Born and raised in Riverside, CA, he was predeceased by his parents, Henry F. Adams and Helen R. Dales, and sister, Ann Karlsson LeFever. Henry was a remarkable man, who accomplished a great deal on this earth, as a Merchant Marine and US Naval Officer, a teacher, a rancher and most important to him, as a husband and father.

As a teenager, he worked in his Grandparents' orange groves, and had his own small farm with a team of horses. Henry joined the US Maritime Service on his 18th birthday in 1942. During his first tour at sea, his ship was torpedoed by the enemy and sunk. He was one of eight survivors. He traveled the world while in the Merchant Marines. His journals and stories from this period of his life are fascinating, and include handling of the ships' medicine chest and false imprisonment twice in the middle east. His awards for his merchant marine service include American Victory, Philippine Liberation, Pacific, Atlantic and Caribbean service during WW II.

In 1949, he rode a converted bicycle/motorcycle from California northward, with the intent of buying land in Alaska. This broke down in British Columbia, and instead, he purchased 957 acres along beautiful Francois Lake. This began a life long love of his land. Many times during this period of his life, he would return to sea to earn money to finance his ranch, his college education and the education of his sister, Ann.

In 1954, he married his lovely wife, Joanne, a teacher from Riverside. Joanne and Henry raised their three children in Pacifica from 1961-1984. Henry was active in St Andrews Presbyterian Church, serving as both a deacon and elder.

In 1953 he was called to active duty in the Navy on the US Pickaway (1953-1956), as first lieutenant and navigator. In 1956 he was transferred from Amphibious Force Pacific to Explosives Ordnance Disposal, and served as an E.O.D. and diver officer at the U.S. Naval Weapons Station in Concord for three years. His final tour of active duty was as Instructor/Supervisor of the Nuclear Weapons Disposal School in Indianhead, Maryland. In 1961, he left active duty, and was affiliated with Harbor Defense, Unit 12-1, San Francisco. This was later redesignated as Mobile Inshore Undersea Warfare 1820, San Jose. Henry served as a commanding officer of this unit from 1968-1971. He requalified as a SCUBA and second class deep sea diver every year from 1957-1977. When he retired at age 53, he was the oldest qualified diver in the Naval Reserve, of which he was justly proud. Navy awards included Korean War and American Defense. He was noted for his professionalism, superior leadership and personal responsibility.

Henry completed his education in 1971, earning a M.A. in Industrial Arts from San Francisco State University. He taught math and industrial arts at Mills High School in Millbrae from 1964-1984. During this time, he served as the vice president and president of the California Industrial Arts Association, as well as president of the local chapter of the California Teacher's Association. He was admired for his innovations in developing new courses for his students, and his remarkable skill and patience in teaching. He was loved by his students, and was voted "Teacher of the Year" in 1974.

In 1984, he and Joanne left California and moved full time to their beloved ranch, enjoying a very active retirement. He had dual US/Canadian citizenship. Henry loved to build and create, building two homes, outbuildings, barns, a harbor, and many boats. They raised cattle and horses, both Norwegian Fjords and Clydesdales. Henry was very physically fit, and continued to exercise with weights into his late 70's. He actively served the community, volunteering as a diver with the RCMP, crisis line counselor, and president of both the Eagle Creek Recreation Committee and Fall Fair Association. He faithfully volunteered and maintained a government weather station on his ranch. He had his own column and byline in the Lakes District News. He was also active in 4-H and the Canadian Legion. In 1992, he was awarded the Commemorative Medal for the 125th Anniversary of Canada, in 'recognition of significant contribution to compatriots, community and to Canada', by the Governor General of Canada. In 2006, Henry and Joanne moved back to California to be closer to family.

Left to cherish Henry's memory are his beloved and devoted wife of 60 years, Joanne Shearer Adams, his daughter Mary Kaufman of Redwood City, daughter Jane Adams (Andy Hyde) of Kalispell, MT, and son William Adams, of Surrey, B.C. Canada. He was cherished by his adoring grandchildren, Anneliese, Kimberly, Sara and John Kaufman, and Molly Adams-Hyde. "Uncle Hank" was also admired and loved by many nephews, nieces, great nephews and great nieces.

Henry had indefatigable energy and a strong work ethic, as well as great enthusiasm and joy for life. He will be long remembered for his great sense of honor, duty and loyalty to both his country and family. He deeply believed in our responsibility to serve our community and world. His greatest pleasure was time spent with his wife, children and grandchildren.

The family would like to thank Palm Villas of Redwood City for their gentle care of Henry and great kindness to all of them at this difficult time. Memorial donations can be made to World Vision, 888-511-6401, source code 105429679. Family and Friends are invited to a attend a celebration of life at Trinity Presbyterian Church, 1106 Alameda de las Pulgas, San Carlos, on Sunday, March 1, at 1 PM.