In Memory
Richard Schulz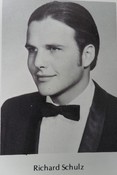 Richard J. Schulz

11/08/1951 - 8/20/2005

Richard Schulz passed away on August 20th at his home of 31 years in Meadow Vista. Born in Tacoma, WA on November 8, 1951 Rich grew up in San Francisco and was a frequent surfer at Ocean Beach and other hot spots.

Graduated from Mills High school in Burlingame, California class of 1970. He was an avid outdoorsman famous for his myriad projects on his premises at 470 Meadowgate. Richard is survived by "the women in his life": daughter Sarah Schulz, mother Luba Schulz, sister Marlene Tresser and dear friend Genie Nowlin. His leading ladies spent a variety of heartfelt times with Rich who was always the "Activities Coordinator". Rich took the family boating and fishing with his brother-in-law Jim Tresser organized evening card games and twilight tours of the canal, and was always up for a big adventure.

Friends and family members who stopped by Meadow Vista were treated to a spirited welcome, tour of the grounds and even a quick catfish catch on occasion. Rich raised homing pigeons, bees, chickens, koi and catfish, gardened a variety of fruits and vegetables, and cultivated over 15 tree species. He happily opened his doors to any and all who cared to "debate the meaning of life" with Rich on his front porch.

He developed a positive mentor relationship with four neighborhood adolescences that helped him with odd jobs and endearingly labeled them "the White Boys of Meadow Vista". For 30 years Rich was a dedicated railroad engineer for Union Pacific. He was a disciplined student of the martial arts and achieved a 3rd Degree Black Belt in Tae Kwon Do. He became a Tae Kwon Do instructor and helped many students master the discipline.

Rich will be happily remembered for all the fun times he created for friends and family. His relationships led to a variety of nicknames such as "El Patron", "Big Dog", "The King", "Barnyard Bob" and "Peter Pan". Rich had an infectious laugh and endeared himself to many with his no-nonsense, shoot from the hip, fun-loving demeanor.
****
I received this article from Rich's sister, Marlene Tresser.