In Memory
Cathy Delbene (Fitzgerald)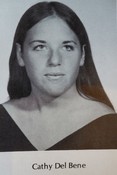 My sister did pass away eleven years ago. A day doesn't go by that I don't miss 
her so thank you for the acknowledgment. Have a wonderful reunion I was a 
graduate of the '74 class. Joanne DelBene




Eight years prior to her passing she had surgery for breast cancer and did the

kemo/radiation thing. Her kemo treatment was the highest dose you can give and

Stanford stated that she could possibly get a form of leukemia later.

After the eight years she did get it and needed a bone marrow transplant.

Stanford, UCSF and UCLA tested she and I and we were ironically an exact match.

All three hospitals thought the testing must be wrong so we did it again and the

same results were an exact match! Three months after the transplant she got an

infection in her shunt and there was nothing more they could do.

She passed away November 9, 1998. Unfortunately my dad took it so badly he

passed away ten months later.