In Memory
James "Pat" Casey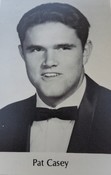 Passed away on March 14, 2005.
CASEY, James Patrick "Pat"
Wednesday, March 23, 2005
CASEY, James Patrick "Pat" - April 21, 1952 - March 14, 2005 Age 52. Hero and best friend to sister, Tori Casey-Gilmore of Redwood City; loving brother of Dan Casey of Foster City and Michael Casey of San Jose. Loving son of Joan Casey of Millbrae and the late James B. Casey. Three very special nephews, Ryan Justin and Joshua Gilmore of Redwood City and his only niece, Amanda Casey of San Jose. A native of Millbrae, CA, he graduated in 1970 from Mills High School; immediately went to work for Pacific Bell where he worked for 30 years before retiring in December 2002. A Celebration of his life and those he touched will be celebrated Thursday. March 24, 2005, 6:00pm at Crosby-N. Gray & Co. Private Interment and reception will be held at a later date. Donations to the Highlanders Little League, P.O. Box 1521, Redwood City, CA 94064, attn: "Pat" James Casey Memorial Fund.
http://sfgate.com/cgi-bin/article.cgi?f=/c/a/2005/03/23/MNCASEYJAM10.DTL